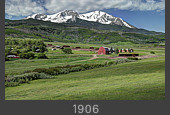 As a rule, I prefer not to talk about the photographic equipment I use. Top-of-the-line cameras and lenses do have their role to play, and that's what I normally use, but in some instances the process of using them and the matter of their bulk (such as using a tripod, which I almost always do) and the process of getting the most out of them are simply not practical under certain circumstances. Yet, there are situations in which there's an image to be made, a story to be told, so you must turn to more modest equipment that's quicker and easier to use.
Such is the case with this image and Image #1907. My wife and I were driving along an unpaved back road in Colorado when we came across this scene, which begged to be photographed. But our circumstances didn't allow for me to set up a tripod, etc., as I normally would. So what I did was pull out my compact camera and use it hand-held, automatically shooting multiple exposures (bracketing) for HDR processing. No, the final result doesn't quite come up to my usual standard of technical quality, but I've included these images here to illustrate the point that the most important camera is the one you have with you, which might even be a smart phone. Go with it!
One more comment: I choose not to mention what camera I used for this photo, other than to say it's a high-quality compact camera with a fairly large sensor and a zoom lens. If I told you the brand and model of the camera, and you like these images, you might be inclined to rush out and buy the same camera. My point is that that's not very important. The key is knowing what story you want to tell and using whatever camera you have, very carefully, to maximize its potential. Composition is the heart and soul of an image, and that's essentially independent of whatever camera you're using. If you are a student or a novice photographer, know that as you create many images, you'll eventually find your photographic "voice," and with experience you'll gravitate toward the equipment and techniques you need, to create the images you most want to create.